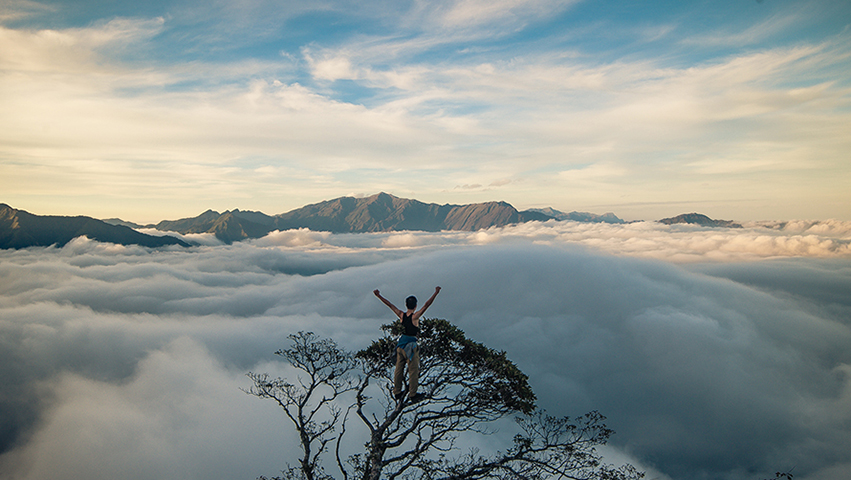 TA XUA – Walking on the Dinosaur Spine
Ta Xua is one of the most magnificent mountain in the North of Vietnam. At 2865 meters high, it's famous for diversified tropical forests, tips of the mountain which protrudes from the ocean of clouds and also long and difficult slopes. Some highlights of the Ta Xua mountain that we can refer to: the giant tortoise stone head reaching out the cliff, giant undulating ridge as the dinosaur spine. And if we are lucky, we can walk on the ridge which split up the ocean of clouds – an unforgettable impressive experience.
Ta Xua is famous also with diversified vegetation: thick moss carpets, hundreds-years old grand trees,… When you see the golden inclined sunset light shining on the tree branches covered by moss, you will feel like you've just get in tropical paradise.
This is definitely a worthwhile challenge for enthusiasts to conquer.
Có thể bạn quan tâm: Tour Leo Núi Putaleng

TA XUA: Level 8/10 · HARD
TA XUA: 2865m high, Ho Thau – Ban Cong – Tram Tau – Yen Bai
Tour duration: 3 days and 4 nights
Over 34km of mountain road, many forest, few streams. Suitable for hunting clouds and watching majestic landscapes.
★ – INCLUDED SERVICES – ★
A 45-seat sleeper bus traveling between Hanoi and Sapa.
All meals for 2 days, including the last day's hot pot.
Food that provides enough nutrients and energy for trekking members.
Dedicated water purifier.
Drinking water: an 800ml water bottle to be given out from the beginning (Water is refillable on the trek)
Porters who carry your group's and personal belongings
Rooms to stay on the mountain.
Travel Insurance (500,000,000 VND/person/case)
Herbal bath of the Dao people in Sapa
Trekking equipment includes:
Raincoat, gloves, headlamp, snacks
Trekking pole, 20L backpack, personal water bottle (collected back at the end of the tour)
Souvenir medal for conquering Ta Xua mountain trekking tour
★ –  SERVICES NOT INCLUDED IN THE TOUR – ★
VAT
Tip for the tour guide and porters
Other personal expenses
★ –  WHAT YOU NEED TO PREPARE – ★
A pair of trekking shoes (high-neck shoes are the best) that are comfortable, well-fitted, and have a non-slip outsole
Clothes for 2 days and 1 nights on the mountain:
– 2 long pants (preferably quick-drying pants) and 1 long-sleeved jacket (preferably a thin windbreaker) to wear when trekking.
– 3-4 T-shirts
– Warm and thick coat for use in the evening while at the shack
– 1 super thin sweater or down jacket to wear to bed
– 1 pair of slippers for use at the shack
– Scarves: avoid wool scarves, we recommend the use of fabric scarves or bandanas as they are quick to dry in case of getting wet.
– 3-5 pairs of long, thick socks (do not use low-neck socks)
– Other personal items: mosquito repellent, sunglasses, hat, camera, underwear, toiletries.
Heating patches
Personal medication
Personal Identification
Destination pictures
Conditions of eating and sleeping