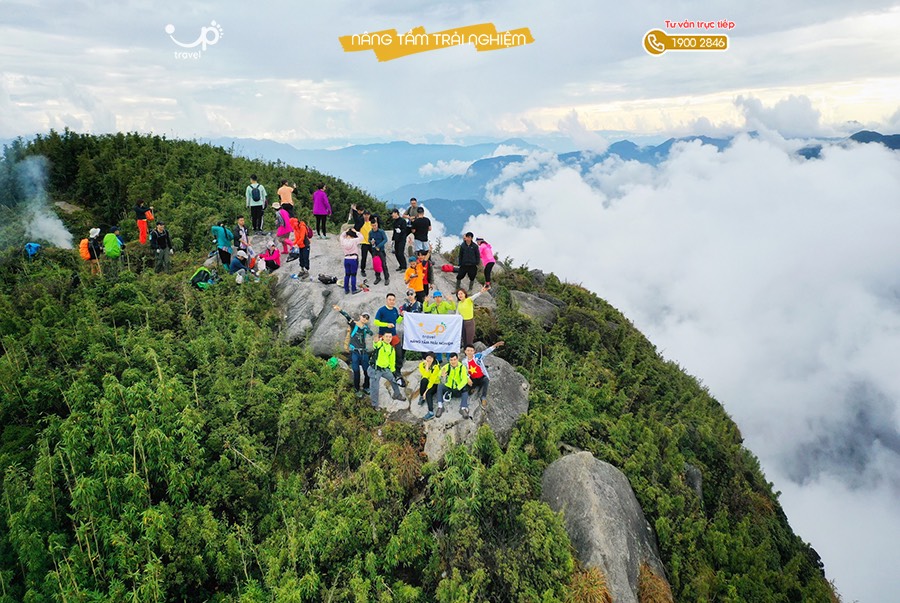 NGU CHI SON – The Sacred Five Fingers Mountain
Ngu Chi Son is widely known as the one of the most impressive tourist destination in the Northwest of Vietnam.
It is a very strange mountain which has the shape of a hand with fingers pointing towards the sky. "Ngu Chi Son" in Vietnamese means "a five-finger mountain". There are several legends about this mysterious mountain, passed onto many generations. To conquer this mountain, you have to go through lots of fast-running streams and the most imposing waterfalls in our Northwestern, through extreme wilderness with dangerous cliffs and wail of the wind…
Only after you have conquered it can you realize how wonderful it is. The trip to the summit of Ngu Chi Son will be one of the most amazing journeys you can ever have.
Có thể bạn quan tâm: Tour Leo Núi Nhìu Cồ San


Theo dõi Fanpage của Travel Up để khám phá thêm về Ngũ Chỉ Sơn
NGU CHI SON: LEVEL 7/10 · MEDIUM
NGU CHI SON: 2858 m high, Ta Giang Phinh – Sapa – Lao Cai
Duration: Tour 2 days 3 nights
Over 9km of forest road, steep terrain, many cliffs. Cloud hunting.
Sleeping in a shack at an altitude of 2600m
★ – SERVICES INCLUDED – ★
1. Moving expense
 – Return Bus Tickets Hanoi – Sapa.
 – 16-seat or 29-seat van for the journey to the trek point and back to Sapa.
2. All the housing expense in your trekking
 – Water and food during your trekking.
 – Porter (who carries the food and stuff).
 – Warm sleeping place in the tent.
 – The first breakfast and the last Hot Pot in Sapa.
3. Other services
 – Travel Insurance (20.000.000VND/person – for Vietnamese only)
 – Entrance fee for the local government's management
 – Climbing gear: – 01 raincoat, 02 pairs of gloves, snacks, health kit.
 – Ticket for the Dao Tribe's hot herbal bath.
★ – EXCLUDED SERVICES – ★
– Tips for porter or tour guide (in case).
Destination pictures
Conditions of eating and sleeping