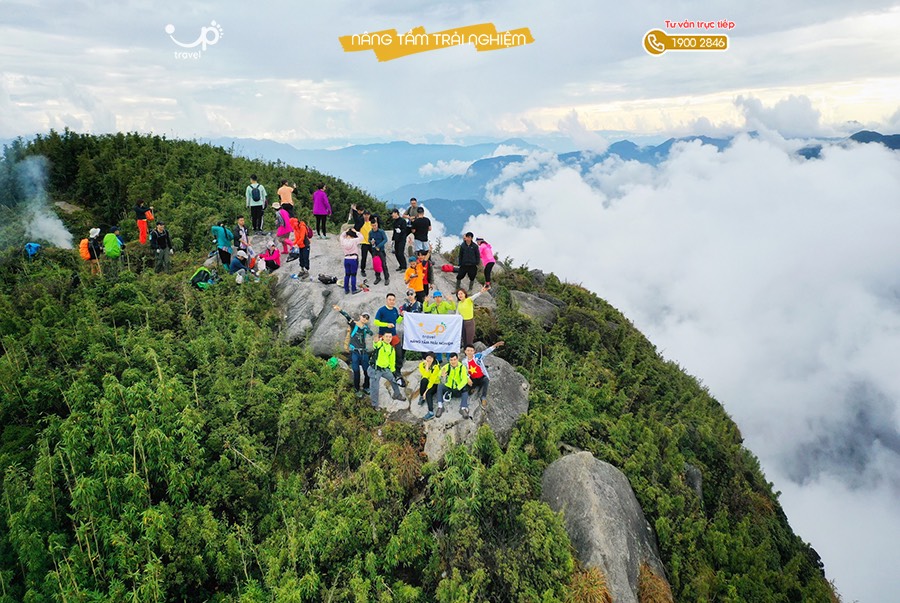 CONQUERING NGU CHI SON
Ngu Chi Son is a mountain with a strange shape – the jutting peaks combined with the deep ravine form a five-fingered hand pointing straight up to the sky. Ngu Chi Son or Five Fingers Mountain has been associated with many legends and mysterious stories told by local people for many generations. The way to conquer this mountain is also extremely dangerous, crossing the most majestic streams and waterfalls in the Northwest, the absolutely pristine forest carpets and the cold rocky cliffs full of chilling wind.
From the top of Ngu Chi Son, you can clearly see Fansipan, Nhiu Co San, Bach Moc and Lao Than. The scene at the top is very beautiful, just like being lost in a fairyland, and is indescribable in words or in pictures.
Có thể bạn quan tâm: Tour Leo Núi Nhìu Cồ San


Theo dõi Fanpage của Travel Up để khám phá thêm về Ngũ Chỉ Sơn
NGU CHI SON: DIFFICULTY LEVEL 7/10 · MODERATE
NGU CHI SON: 2,858m high. Ta Giang Phinh – Sapa – Lao Cai
Tour duration: 2 days and 3 nights
Trekking through 9 km of forest trails with steep terrain and a lot of cliffs. There is potential for cloud hunting
Sleeping in a shack at an altitude of 2600m
★ – INCLUDED SERVICES – ★
A 45-seat sleeper bus traveling between Hanoi and Sapa
All meals for 2 days, including the last day's hot pot
Food that provides enough nutrients and energy for trekking members
Dedicated water purifier
Drinking water: an 800ml water bottle to be given out from the beginning (Water is refillable on the trek)
Porters who carry your group's and personal belongings
Rooms to stay on the mountain.
Travel Insurance (500,000,000 VND/person/case)
Herbal bath of the Dao people in Sapa
Trekking equipment includes:
– Raincoat, gloves, headlamp, snacks
– Trekking pole, 20L backpack, personal water bottle (collected back at the end of the tour)
Souvenir medal
★ –  SERVICES NOT INCLUDED IN THE TOUR – ★
VAT
Tip for the tour guide and porters
Other personal expenses
★ –  WHAT YOU NEED TO PREPARE – ★
A pair of trekking shoes (high-neck shoes are the best) that are comfortable, well-fitted, and have a non-slip outsole
Clothes for 2 days and 1 nights on the mountain:
– 2 long pants (preferably quick-drying pants) and 1 long-sleeved jacket (preferably a thin windbreaker) to wear when trekking.
– 3-4 T-shirts
– Warm and thick coat for use in the evening while at the shack
– 1 super thin sweater or down jacket to wear to bed
– 1 pair of slippers for use at the shack
– Scarves: avoid wool scarves, we recommend the use of fabric scarves or bandanas as they are quick to dry in case of getting wet.
– 3-5 pairs of long, thick socks (do not use low-neck socks)
– Other personal items: mosquito repellent, sunglasses, hat, camera, underwear, toiletries.
Heating patches
Personal medication
Personal Identification
Destination pictures
Conditions of eating and sleeping