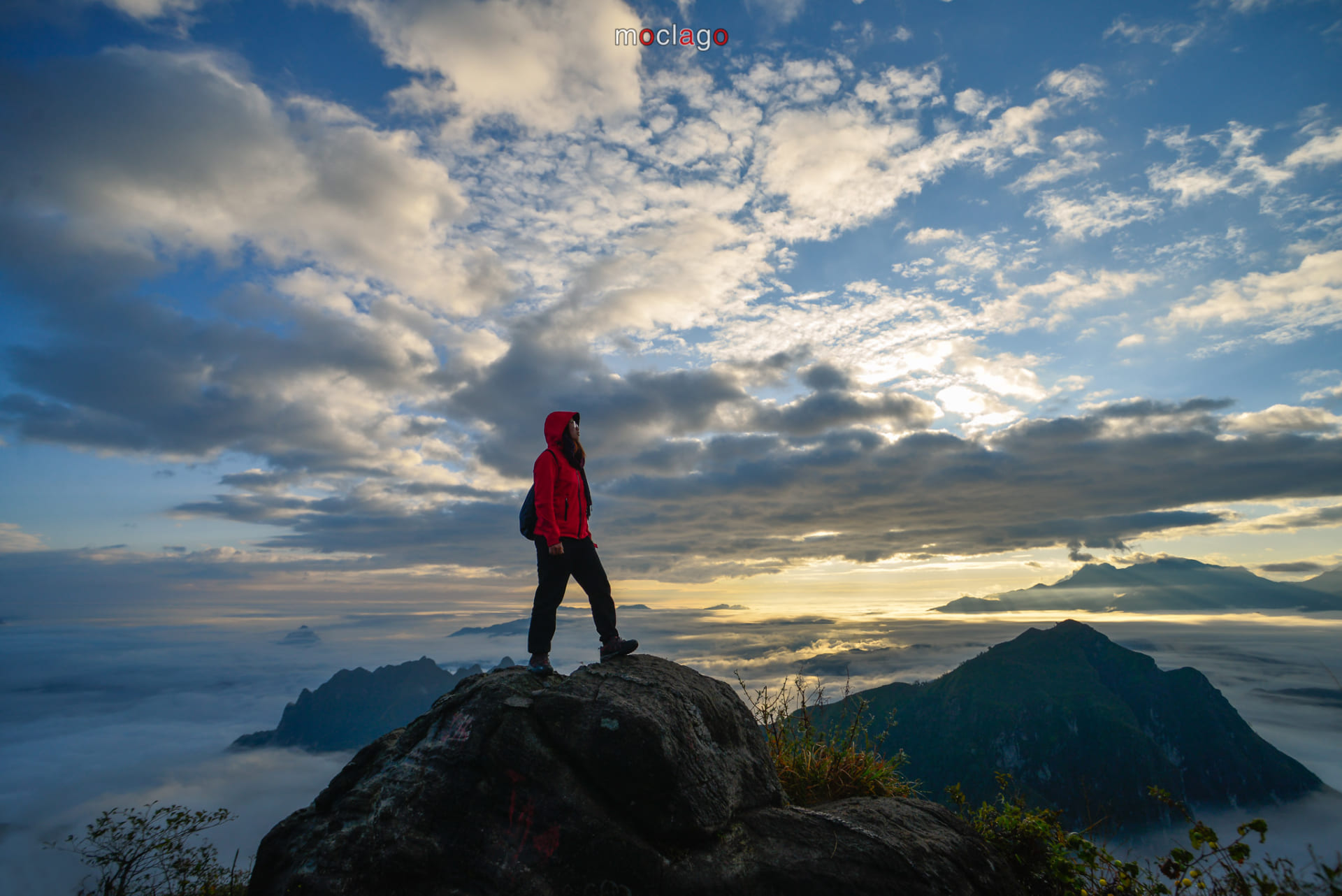 CONQUERING BACH MOC LUONG TU
When the reputation of the legendary Fansipan faded away, BACH MOC LUONG TU appears and become the first choice to replace that position. Located on the line between Lai Chau and Lao Cai, Bach Moc is famous for its exquisite scene containing a heaven of cloud. While beautiful cloud only exist in about 10 days in Fansipan, the heaven of cloud in Bach Moc Luong Tu remains continually the whole year.
The multi-terrain in Bach Moc is not for the amateurs. It is a difficulty, but also be a gift for those who are determined to conquer the composing mountain. With good health and endurance, you will have a chance to pass the winding road, go through the thick forest covered by dew, climb up the sloping cliffs to the impressive saddle, have a good dream underneath the mysterious night sky. These things are the special gifts for anyone can conquer one of the most impediment mountains in Viet Nam.
It must be an UNFORGETTABLE experience that you will ever have!
Có thể bạn quan tâm: Leo Núi Lảo Thẩn


Theo dõi Fanpage của Travel Up để khám phá thêm về Bạch Mộc Lương Tử
BACH MOC LUONG TU (KY QUAN SAN): DIFFICULTY LEVEL 7/10 · CHALLENGING
KY QUAN SAN: 3046m high, Sang Ma Sao – Bat Xat – Lao Cai province
Tour duration: 3 days and 4 nights
Trekking through 28km of mountainous trails with few forests, some streams, and the potential to watch the sea of clouds at the Salt hill
The path is mainly a trail through forests and streams with some cliffs
Sleep in a shack at an altitude of 2100m
★ – INCLUDED SERVICES – ★
A 45-seat sleeper bus traveling between Hanoi and Sapa
All meals for 3 days, including the last day's hot pot
Food that provides enough nutrients and energy for trekking members
Dedicated water purifier
Drinking water: an 800ml water bottle to be given out from the beginning (Water is refillable on the trek)
Porters who carry your group's and personal belongings
Rooms to stay on the mountain
Travel Insurance (500,000,000 VND/person/case)
Herbal bath of the Dao people in Sapa
Trekking equipment includes:
– Raincoat, gloves, headlamp, snacks
– Trekking pole, 20L backpack, personal water bottle (collected back at the end of the tour)
Souvenir medal of Bach Moc Luong Tu mountain trekking tour
Motorbike taxi
★ – SERVICES NOT INCLUDED IN THE TOUR – ★
VAT
Tip for the tour guide and porters
Other personal expenses
★ – WHAT YOU NEED TO PREPARE – ★
A pair of trekking shoes (high-neck shoes are the best) that are comfortable, well-fitted, and have a non-slip outsole.
Clothes for 3 days and 2 nights on the mountain:
– 2 long pants (preferably quick-drying pants) and 1 long-sleeved jacket (preferably a thin windbreaker) to wear when trekking
– 3-4 T-shirts
– Warm and thick coat for use in the evening while at the shack
– 1 super thin sweater or down jacket to wear to bed
– 1 pair of slippers for use at the shack
– Scarves: avoid wool scarves, we recommend the use of fabric scarves or bandanas as they are quick to dry in case of getting wet
– 3-5 pairs of long, thick socks (do not use low-neck socks)
– Other personal items: mosquito repellent, sunglasses, hat, camera, underwear, toiletries
Heating patches
Personal medication
Personal Identification
Destination pictures
Conditions of eating and sleeping