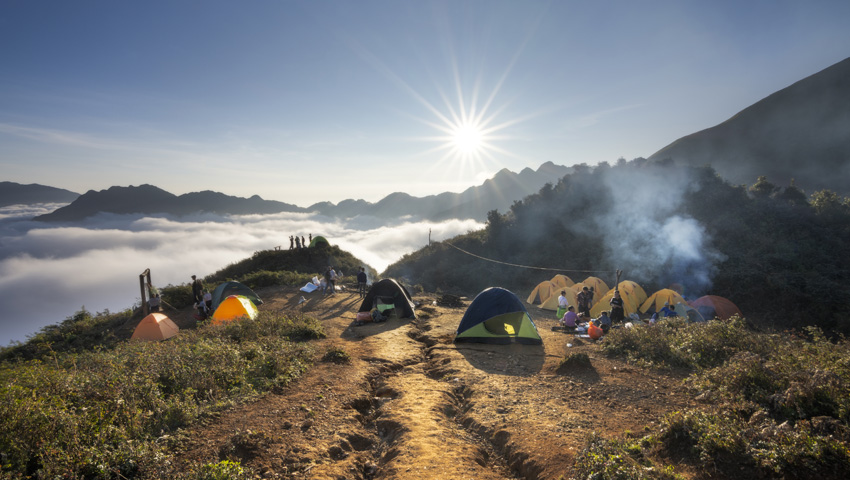 TA CHI NHU PEAK – The Sky-floating Island
Some tell that Vietnamese are "Cloud Hunters", referring to how Vietnamese love the view of magnificent ocean of cloud. And that's why so many of us come to Ta Chi Nhu, a true paradise located in the Northwest of Vietnam. With the height of 2.979 meters above sea level for the summit, plus the high slopes and the strong windblow due to its airy location, it will not be easy for everybody to conquer.
Instead, you will be provided a 360 degree viewing angle, giving you the feeling of standing on top of the world. The clouds, the howling wind, the dreamy purple of unnamed wildflowers growing along the mountain spine,… those must be the precious of a true wanderlust soul
TA CHI NHU: Level 7/10 · Medium
TA CHI NHU: 2,979 m high, Xa Ho – Tram Tau – Yen Bai
Duration: Tour 2 days 3 nights
Over 18km of mountain and forest road, terrain with few forests, hunting clouds, few streams.
Sleeping in a shack at an altitude of 2600m
Mountain trekking tour to hunt the most beautiful clouds in the Northwest
Có thể bạn quan tâm: Tour Leo Núi Tà Xùa


Theo dõi Fanpage của Travel Up để khám phá thêm về Tà Chì Nhù
WE PROVIDE
Bus to move Hanoi – Tram Tau (car 16 or 29 seats)
All meals for 2 days, including the last day's party hot pot
Food provides enough nutrients and energy for climbing members.
Dedicated water filter.
Drinking water:  800ml bottle from the beginning (Water is replenished on the trek)
Porter port your group and personal belongings
Mountain room.
Mineral bath at Tram Tau
Standard Travel Insurance (70,000,000VND/person/case)
Climbing equipment includes:
Raincoats, gloves, snacks
Trekking stick, 10L backpack, personal water bottle (collected at the end of the tour)
Souvenir medal of Ta Chi Nhu mountain tour
YOU ARE READY
Clothes for  2 days 1 night in the mountains:
2 long pants (preferably quick-drying pants) and 1 long-sleeved shirt (preferably a light windbreaker) to wear during the trek
2-3 T-shirts
Warm thick coat. For use in the evening while at the shack
1 super thin sweater or down jacket to wear to bed
1 pair of high-top boots/climbing shoes that are waterproof and have good grip
1 pair of slippers used at the Shack
Scarves: wool towels are contraindicated, so use cloth towels or bandanas so that if they get et, they can be easily dried.
3-5 pairs of long, thick socks (do not use low-neck socks)
Personal items: mosquito repellent, sunglasses, hat, camera, underwear, toiletries.
Flashlight
Stickers Thermostats
Personal medicine.
Identification.
Destination pictures
Conditions of eating and sleeping