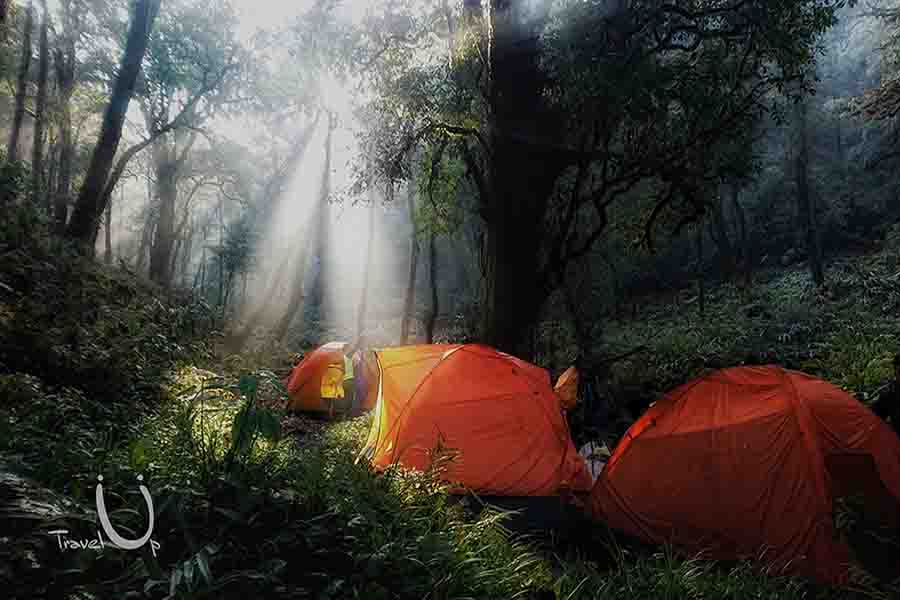 CONQUERING PO MA LUNG
Po Ma Lung (also known as The Wall/Bach Moc Luong – "White Wood Forest") is a mountain peak discovered by a group of young people in early April 2016, located in Phong Tho district, Lai Chau province at an altitude of 2967m above sea level and is the 7th highest mountain in Vietnam.
Po Ma Lung has a wild beauty with flower beds stretching on both sides of the mountain, a system of majestic waterfalls, a primeval forest brilliant in the morning sunlight, and maple trees dyeing the whole forest red at the end of their season. Po Ma Lung, which is like a forgotten paradise garden, will definitely be a new place for souls who love to experience and explore nature.
PO MA LUNG: DIFFICULTY LEVEL 9/10 · VERY HARD
PO MA LUNG: 2967m high, Ban Lang – Lai Chau
Tour duration: 3 days and 4 nights
Trekking over 35 km of mountain trails, with the terrain involving many old forests, super beautiful waterfalls, and streams
Sleeping in a shack at an altitude of 2500m
★ – INCLUDED SERVICES – ★
A 45-seat sleeper bus traveling between Hanoi and Sapa
All meals for 3 days, including the last day's hot pot
Food that provides enough nutrients and energy for trekking members
Dedicated water purifier
Drinking water: an 800ml water bottle to be given out from the beginning (Water is refillable on the trek)
Porters who carry your group and personal belongings
Rooms on the mountain
Travel Insurance (500,000,000 VND/person/case)
Trekking equipment includes:
– Raincoat, gloves, snacks
– Trekking pole, 20L backpack, personal water bottle (collected back at the end of the tour)
Herbal bath of the Dao people in Sapa
Motorbike taxi if available
★ –  SERVICES NOT INCLUDED IN THE TOUR – ★
VAT
Tip for the tour guide and porters
Other personal expenses
★ –  WHAT YOU NEED TO PREPARE – ★
A pair of trekking shoes (high-neck shoes are the best) that are comfortable, well-fitted, and have a non-slip outsole
Clothes for 2 days and 1 nights on the mountain:
– 2 long pants (preferably quick-drying pants) and 1 long-sleeved jacket (preferably a thin windbreaker) to wear when trekking.
– 3-4 T-shirts
– Warm and thick coat for use in the evening while at the shack
– 1 super thin sweater or down jacket to wear to bed
– 1 pair of slippers for use at the shack
– Scarves: avoid wool scarves, we recommend the use of fabric scarves or bandanas as they are quick to dry in case of getting wet.
– 3-5 pairs of long, thick socks (do not use low-neck socks)
– Other personal items: mosquito repellent, sunglasses, hat, camera, underwear, toiletries.
Heating patches
Personal medication
Personal Identification