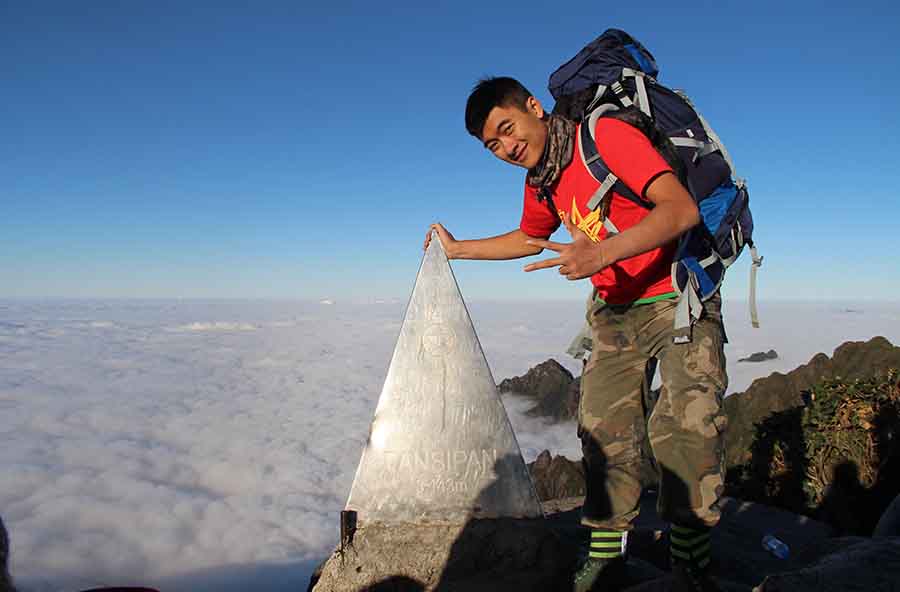 CONQUERING MOUNTAIN FANSIPAN
With an altitude of 3143m above sea level, located in the core of Hoang Lien National Park, Fansipan is where many aspire to set foot and conquer to satisfy their passion as well as overcome their limits.
Fansipan mountain's main trekking terrain is a trail through the forest, along with steep climbs with sturdy stainless steel ladders, which helps the trek to be somewhat easier. Fansipan is not only known as the "roof of Indochina", but also a symbol of conquest for the youth with determination. Start your journey to conquer Fansipan with Travel Up now!
FANSIPAN: DIFFICULTY LEVEL 6/10 · MODERATE
Fansipan: 3143m high, located in Hoang Lien Son national forest, Lao Cai province
Tour duration: 2 days and 3 nights
Trekking through 15 km of forest and mountain trails, the terrain involves lots of forests and only a few streams, with potential for the sea of clouds at the peak
The path is paved with stones
Sleep in a shack at an altitude of 2800m
★ – INCLUDED SERVICES – ★
Sleeper bus to travel between Hanoi and Sapa. Those who do not use this vehicle will be refunded 200k/person/way
Shuttle bus between the tour office and the trekking point
Procedures to enter the forest (insurance, entrance fees, accommodation fees, environmental sanitation, etc.)
Food that provides enough nutrients and energy for the members.
Drinking water: 4 500ml bottles. Supplement with boiled mountain water if necessary
Porters
Rooms and sleeping bags on the mountain
Personal restroom and storage in Sapa
Travel Insurance (500,000,000 VND/person/case)
Trekking equipment includes: 01 raincoat, 01 pair of gloves, medical equipment,…
Certificates and medals issued by Hoang Lien Son National Park
★ – SERVICES NOT INCLUDED IN THE TOUR – ★
VAT
Tip for the tour guide and porters
Other personal expenses
★ – WHAT YOU NEED TO PREPARE – ★
A pair of trekking shoes (high-neck shoes are the best) that are comfortable, well-fitted, and have a non-slip outsole
Clothes for 3 days and 2 nights on the mountain:
– 2 long pants (preferably quick-drying pants) and 1 long-sleeved jacket (preferably a thin windbreaker) to wear when trekking
– 3-4 T-shirts
– Warm and thick coat for use in the evening while at the shack
– 1 super thin sweater or down jacket to wear to bed
– 1 pair of slippers for use at the shack
– Scarves: avoid wool scarves, we recommend the use of fabric scarves or bandanas so that they are quick to dry in case of getting wet.
– 3-5 pairs of long, thick socks (do not use low-neck socks)
– Other personal items: mosquito repellent, sunglasses, hat, camera, underwear, toiletries
Headlamp
Heating patches
Personal medication
Personal Identification